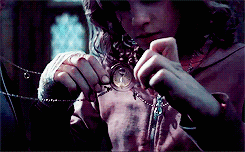 I found this image posted by You-Know-Who at the Harry Potter wiki.
I hope he doesn't curse me for using it.



I've told my family what they can get me for Christmas this year: A Time-Turner. I love the idea of a small device to allow one to easily travel through time. The inscription on Hermione Granger's Time-Turner reads:
I mark the hours every one nor have I yet outrun the sun.

(outer ring)

My use and value unto you are gauged by what you have to do.

(middle ring)






I think I'd have this inscribed on mine:



Tempus fugit.*

Ovid

(outer ring)




Time flies like the wind. Fruit flies like bananas. G. Marx

(middle ring)

* Translates as "Time flies."




There are so many wonderful stories which involve travel through time. What are your favorites?
If you were able to travel back to any time in history, when/where would you go? If you could meet any person in history, who would you choose, and what would you ask them or say to them? Do you think you'd prefer to live in another time permanently, or perhaps just visit every once in a while?
I have a hypothesis: that men are more likely than women to want to go back in time and change things. Based on my statistical analysis of one (me) I think women would prefer to just travel and immerse themselves in the period. I'm willing enough to change things in my own time, but I worry that changing one small detail about the past could damage the nature of the present. What do you think?
Then there's the school of thought that says endeavoring to change events through time travel can actually cause them; things are predetermined and fate is inevitable. I read an interesting novel,
From Time to Time
by Jack Finney, in which the main character attempts to change the course of the Titanic to prevent its collision with the iceberg. The change actually leads to the collision.
So I am determined not to meddle. I'll just use my Time-Turner for recreational travel.